Powerful Time and Expense Tracking
for Dynamics GP. Powered by Journyx.
Stop chasing employee timesheets, making corrections, and manually entering data into
Dynamics GP. Journyx helps you collect employee time data for project accounting, billing,
and payroll – quickly, easily, and accurately.
Dynamics GP Users Trust Journyx for Time and Expense Tracking
"Journyx has a tight integration to GP Project Accounting and the price (is) right. (It) allows employees to enter time daily from anywhere, and has better approval and notifications than previously existed…"
-Sandra Dodge, Sr. Financial Reporting & Systems Manager, Iridium Communications
Feature-by-feature comparison: Journyx time and expense tracking vs. Dynamics GP time entry
| Time & Expense Tracking Feature | Dynamics GP | |
| --- | --- | --- |
| Enter and manage ALL types of time entry in one place | Project time and time off are managed on separate screens | |
| Non-project time and expense entry | | |
| Daily in/out work times | | |
| Crew-based time entry | | |
| Time off entry | Must use GP Payroll to use Employee Self-Service | |
| Leave management and approval | | |
| Flexible accrual rules/calculation | Limited accrual options | |
| Supports Canadian payroll | | |
| Supports third-party payroll Systems | Must use GP Payroll to use Employee Self-Service | |
| Receipt image attachment for project expenses and time entry | | |
| Equipment tracking | | |
| Mobile app time & expense tracking for ALL employee types | Limited to salaried employees only | |
| Resource management | | |
| Microsoft Exchange integration | | |
| Easily sync project time between Microsoft Project and GP | | |
Track time one time, in one place.
Now employees can enter all their time (including project hours, overhead/non-project time, and time off) and expenses in one simple user interface. It all syncs back to Dynamics GP and GP Project Accounting, as well as Microsoft® Project and your other existing business systems, for processing.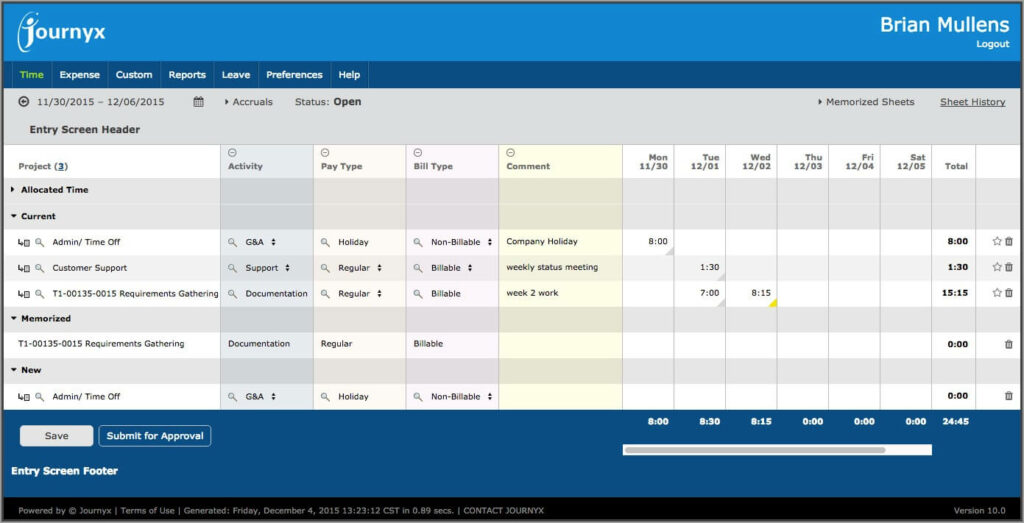 Automatically validate timesheets and approve them your way.
Set up your own rules to automatically validate employee timesheets, so you don't have to make corrections.
Plus, create your own workflow processes for easy time, expense and time-off approvals that work for your company's needs.
Manage leave requests and PTO accruals.
Journyx is built to track employee time – including leave time. Now you have the tools to manage leave requests and calculate accruals, all in one place.
Power your project time and expense tracking.
Journyx is built for projects! Track detailed project time and expenses across the entire project hierarchy, record daily in/out work times, automatically assign future timesheets, and even track crew time.
Plus, you can sync it all back to Microsoft Project, Dynamics GP and GP Project Accounting.
Track time on the go, on any device.
The Journyx mobile app gives your employees the power and flexibility to fill out their timesheets from anywhere, using any iOS or Android device.
Slice and dice the data for the reporting you need.
Generate sophisticated web-based reports based on time, project costing, resource, and process compliance data. Export your reports into Excel and Power BI so you can do even more with your data and create eye-catching visuals.
Additional Dynamics GP Resources
Finding the Right Time and Expense Tracking Solution for Microsoft Dynamics GP
This checklist will help you determine which characteristics of time and expense tracking software for Dynamics GP are most important for your organization, so you can narrow down the solutions more easily.
Achieving Time Tracking Nirvana in Microsoft Dynamics GP
Watch this recorded webinar, presented in partnership with MSDynamicsWorld.com, to learn all the methods you need to address each critical area of your business and move toward your own time-tracking Nirvana in Dynamics GP.
Time Entry in Microsoft Dynamics: Bridging the Gap
How can a best-of-breed time and expense tracking solution fill in the gaps that Microsoft Dynamics has in its time entry capabilities? This infographic shows a feature-by-feature comparison of Journyx and Dynamics ERP systems to show how it bridges the time entry divide.
Have a specific need?
Talk to one of our experts today about how your employees track time, and how Journyx for Dynamics GP can work for your company.