Journyx has acquired leading Time & Attendance company Acumen Data Systems
Now you can solve complex payroll needs and project cost accounting all in one place.
AUSTIN, Texas (April 1, 2021) — Journyx has acquired Acumen Data Systems. Acumen—headquartered in West Springfield, Massachusetts—has been an industry-leading provider of time & attendance solutions since 1995. With biometric interfaces, highly configurable timekeeping rules, and smooth payroll integrations, Acumen delivers modern solutions to both common and highly complex timekeeping and scheduling challenges.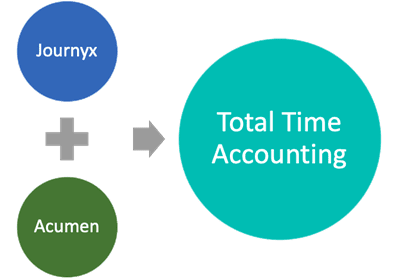 With this merger, Journyx and Acumen now offer the market Total Time  Accounting, a single provider for both project-oriented time accounting and payroll solutions.
Journyx Founder and CEO Curt Finch says: "I know it's cliche for company leaders to say they're excited about this kind of thing. In this case, it's absolutely true: we're totally excited about this. For decades we've wanted to be able to offer time clock payroll solutions, but we've had to stay focused on our project-focused time tracking. Now we can meet both needs, which really opens things up for us and our customers."
Acumen Founder and President Ed Squires agrees: "We've proven ourselves as a high-touch, top-quality provider of time and attendance services and tools. Joining Journyx opens up a new world of possibilities, both in terms of joint offerings, and in terms of the reach of our solution set itself. We're truly excited to bring Acumen's service to new markets and more companies."
Squires adds: "We're also really excited for our customers. They'll not only continue to get the top notch service they've come to know from us, but we can now invest more in our people and our products to help them even more."
Acumen Data Systems solutions include:
Employee time and attendance
Workforce management and optimization
Time clocks — biometric, badge, and mobile
World-class services, integrations, and implementations
Click here to learn more about Acumen Time & Attendance from Journyx.
About Journyx, Inc.
Journyx is based in Austin, Texas, and offers a premier time tracking solution that provides a better way for companies to easily and accurately track employee time for projects, billing, and payroll. We help thousands of organizations worldwide save time and money by streamlining their collection and processing of timesheets.
Let's Get Started. Book a Demo Today.
Journyx helps you track time for projects, payroll, and more. Learn how Journyx can help you use time to your advantage in your business.