Impressive Customization & Flexibility
Streamline timesheet collection and processing and gain better, more accurate business insights with Journyx
Custom User Experience
Unique customization to meet your specific business needs.
Automated Workflows
Easily validate time and expense data so you don't waste time on corrections.
Seamless Integration
Sync employee time data with your key business systems for quicker processing.
Powerful Reporting
Capture real-time insights with robust reports and visual dashboards.
Streamline timesheet collection and processing
JX Project Time Tracking Software
Track project hours and expenses with our premier time tracking software. Our system integrates seamlessly with most payroll and accounting programs to help you work smarter and reduce errors. It even allows you to track and report billable hours by project or account for simplified, accurate client billing.
With automated features like payroll validation and a robust reporting system, our time tracking software has everything you need to streamline project management, billing, payroll, and accounting processes.
Enter hours/expenses, manage timesheets, and manage employee time off requests all in one place
Validate timesheets automatically with custom rules
Track key metrics and project milestones
Access system on mobile devices with Android and iOS applications
Integrate with Microsoft® Dynamics™ GP, NAV/Business Central, SL, AX/365 for Finance and Operations, Microsoft® Project, QuickBooks®,  ADP, Sage, and more
Learn More
Supercharge your project cost accounting
PX Resource Management Software
All the great features of our time tracking software are included with the ability to forecast and allocate resources, manage project budgets, and oversee complex project schedules in one location for more comprehensive capacity planning.
Get an instant snapshot of available personnel for future capacity planning
Forecast project expenses and evaluate budgetary implications
Estimate project timelines in more granular detail
Manage resource allocation, on-demand service requests, leave time, and project deadlines
Access system on mobile devices with Android and iOS applications
Integrate with Microsoft® Project through Journyx Projectlink and seamlessly sync your Journyx data to Excel® spreadsheets and Power BI® with Journyx Reportlink
Learn More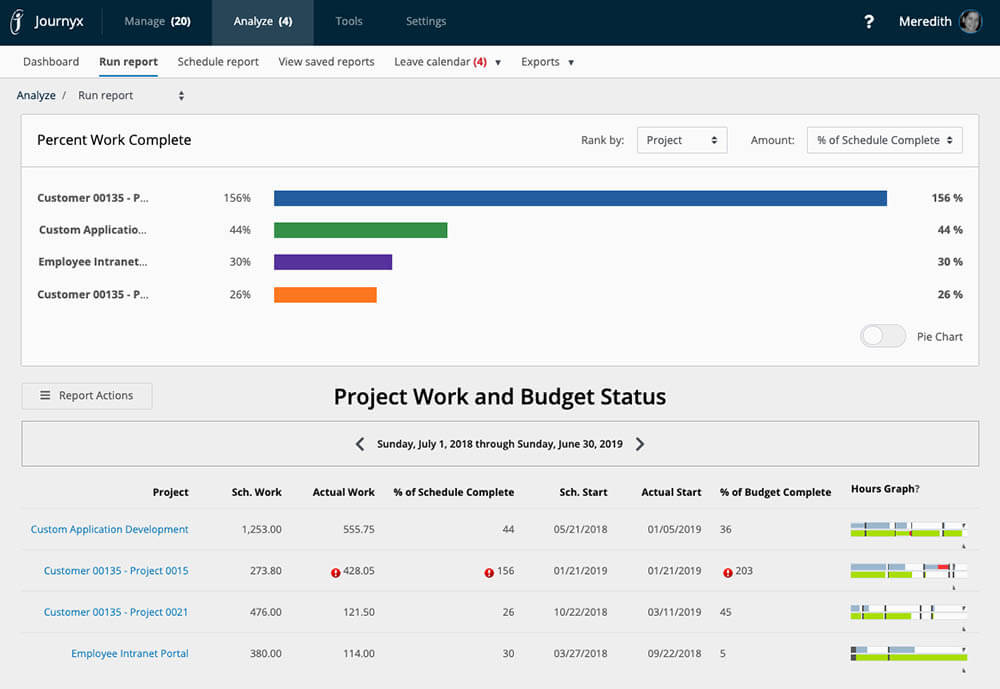 We craft experiences from customer information
Custom Solutions
Need unique features or integrations not available with our standard time tracking software? Our team can help you build custom tools that will get you everything you need to satisfy your project management, financial, and accounting requirements.
Find Out How
Journyx is loaded with powerful features that makes time & expense tracking easy
Journyx is the adaptive time tracking solution to a constantly evolving business world, particularly with…
There are plenty of strategies to boost customer retention during a recession. Measuring customer retention,…
These key performance indicatures (KPIs) for engineering can help you stay lean during challenging economic…
What Our Customers Say
Learn why thousands of companies worldwide use Journyx for better project time and expense tracking and resource management.
"By noon on the second day after the close of the time period, we have 90-95% of the timesheets submitted and approved. This...allows all of the close processes to move faster in the accounting team."

Sandra Dodge

Sr. Financial Reporting & Systems Manager
"In some cases, we have seen a 20% change based on process improvements using Journyx PX. This has translated to the ability to lower costs which are passed on to our clients."

Lora Hefton

COO and Vice President of Operations
"Journyx more than met our expectations. We were able to shave a week and a half off of our normal invoicing cycle. This time savings equals $5 to $6 thousand dollars a month versus our previous method."

Allison Stavron

Lead Cost Engineer
Save Time. See Clearly. Rest Easy.
Ready To See Journyx for Yourself?
Journyx provides better data for better business decisions. Request a FREE custom demo today to find out how we can help you save time and money.
Request a Custom Demo