Simple Yet Powerful Mobile Time Tracking
Empower your remote workforce with the Journyx mobile app—for iOS and Android.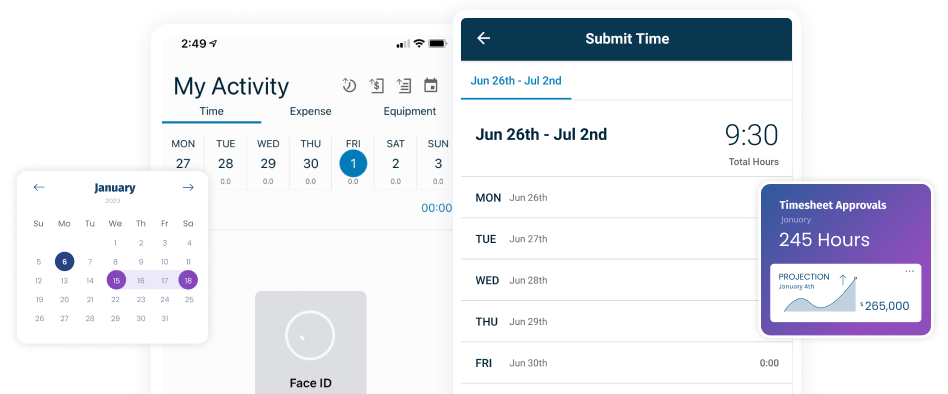 Track and Approve Time from Anywhere
Supervising a remote or field-based workforce can be frustrating without the proper mobile-friendly enterprise tools.
The Journyx mobile app allows you to use your mobile phone or device to fill out your timesheets and reimbursable expenses and submit them for approval when you don't have access to a computer. Whether you're working out in the field or traveling to an on-site meeting, Journyx gives you and your employees the ability to track project time and expenses quickly using an intuitive interface for iOS and Android devices.
The Journyx mobile app also provides supervisors with the ability to review submitted time and expenses and approve them from a mobile device.
The mobile app enforces all of the data validation and project access policies required by your Journyx system. The app is free for licensed users of Journyx.
Journyx Mobile App Features
Easy Time and Expense Entry
Simplified Approval Processes
Secure Data Access
Easy Time and Expense Entry
The Journyx mobile timesheet app is easy for all employees to use.
Select a day, select a project, and enter the time worked. It doesn't get any easier than that. Plus, employees can create expense entries for their projects and include images of their receipts for even more detailed and accurate project cost accounting.
While the Journyx mobile app makes entry easy for users, you still get all of the data validation enforcement and proper access controls under the hood. Like the Journyx system as a whole, mobile users are blocked from saving incorrect entries and provided with information on how to enter and submit accurate data.
Simplified Approval Processes
Managers can review and approve time and expense submissions from anywhere.
Approving your team's time and expense submissions shouldn't always have to be done from your desk. The Journyx mobile app allows you to quickly and easily view all your employees' submitted time and expenses, and then approve them—no matter where you are.
Secure Data Access
Always have access to your data, no matter where you're working.
Our mobile app works in sync with the Journyx cloud-based system so all employee time, expense, and even equipment data is instantly visible to managers for approval and further processing. Timesheet entries, approvals, and expenses in the mobile app connect with Journyx directly, so you can access your data on both platforms in real time.
Managers Get Mobile, Too!
Review time, expenses, receipt images, and more, while approving sheets from your mobile device.
Calculate Your ROI
On average, Journyx customers see a 2-4x ROI by implementing Journyx time tracking solutions.
See how using Journyx can help your business with our ROI calculator.