Your Single Source of Truth for
Workforce Time and Expense Insight
Journyx streamlines project cost accounting, payroll, and client billing processes, and provides a clearer picture of where your organization's time and money is being spent.
Highly Configurable Software That Fits All Your Time Tracking & Resource Management Needs
Journyx offers two different ways to streamline resource management and time planning: Journyx JX, your key to managing employee hours and project expenses, and Journyx PX, your window into resource availability, usage, and business efficiency. Whether you need a simplified way to track and report on labor hours or insight into your future project costs and resource allocation—or both—Journyx has you covered.
Journyx JX: Project Time Tracking Software
Project-Based Time & Expense Tracking
Make time logging and expense tracking easier with our state-of-the-art timesheet and expense tracking system.
Enter all your time and expenses in one, simple-to-use system
Improve time tracking accuracy with AI-driven timesheets, memorized entries and data validation
Manage accruals and vacation requests
Quickly and accurately reimburse your people for business-related expenses
Learn More
Journyx PX: Resource Management Software
Resource Management & Scheduling
Dive deep into your business's resource allocation by estimating and tracking work at the resource level, with better insight into project labor hours, budgets, and employee/contractor assignments.
Visually track resource usage across projects and non-project activities
Get a quick overview of your peoples' scheduled work through a Gantt chart interface
Confidently assign the right personnel to the right work by tracking productivity and performance
Make better business decisions on project status based on real-time data
Learn More
Journyx WX: Timesheet Essentials
Basic Employee Time Tracking for Payroll
Our simple timesheet solution makes it easy to track employees' non-project time and leave requests for basic payroll and attendance management.
Implement basic non-project time entry for payroll and attendance
Track leave requests, and apply automated time off accruals based on custom rules as needed
Submit time and expense entries on-the-go with our secure mobile app
Make better workforce management decisions based on real-time data
Learn More
Mobile App
Take Journyx with you wherever you go. Our mobile application lets team members and management log their time, manage schedules, and track expenses from the palm of their hand. Employees can even log time remotely, giving your team greater flexibility to work outside of the office.
Enter both time and expenses remotely, through iOS or Android mobile devices
Manage current and past timesheets, expenses and custom entries.
Include attachments from the device's photo gallery (such as receipt images)
Clock in and out to capture work times
Learn More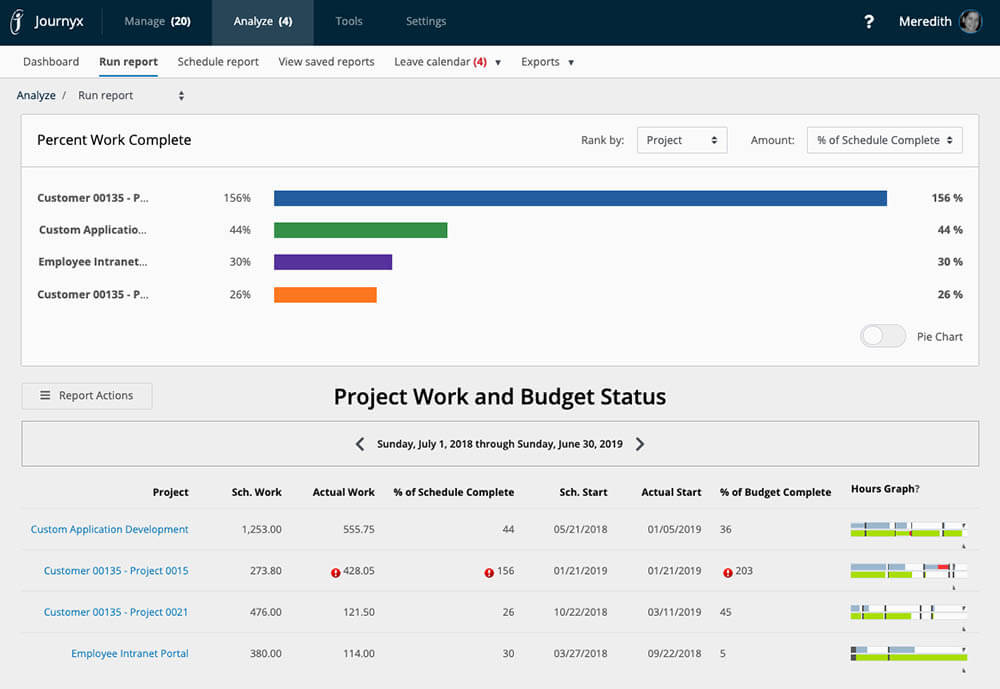 Project Status & Budget Reporting
Journyx software takes time tracking and scheduling one step further, giving you a user-friendly way to visualize employee bandwidth and budget allocation — and the power you need to keep your projects moving along, on time and on budget. With our automated reporting system and extensive integrations, you can create comprehensive reports to help you see exactly where labor hours are going, how your projects are progressing, and how they work into your budget.
Easily create robust, visual reports and dashboards so you can get the data you need, when you need it
Schedule reports to run whenever you want, as often you want
Configure to show the metrics most relevant in your business
Access reports in the cloud 24×7 and share it easily to anyone
Use Journyx Reportlink to turn your Journyx data into true business intelligence in Excel and Power BI
Learn More
Discover how your business can start saving money with better time tracking today! Contact us for a customized demo of Journyx. A member of our team will reach out to schedule a needs analysis call, followed by an obligation-free demo of our time tracking & resource management software customized to meet your specific needs.