Journyx Time and
Expense Tracking for
Microsoft Dynamics SL
Take control of your project time
with powerful time and expense
tracking for Dynamics SL.
Journyx knows project time tracking and what it takes to keep your projects on time and budget. Now you can power up Dynamics SL and your project accounting with smart time and expense tracking that's as powerful as it is easy to use.
Flexible project time and expense tracking.
Journyx is built for projects! Track your project time and expenses, create work breakdown structures, record daily in/out work times, and easily validate it all for accuracy. Sync all your data back to Dynamics SL for easier project accounting – plus integrate with Microsoft Project!
Track time one time, in one place.
Employees can enter all their time (including project hours, overhead/non-project time, and time off) and expenses in one simple, web-based user interface. It all syncs back to Dynamics SL and your other existing business systems.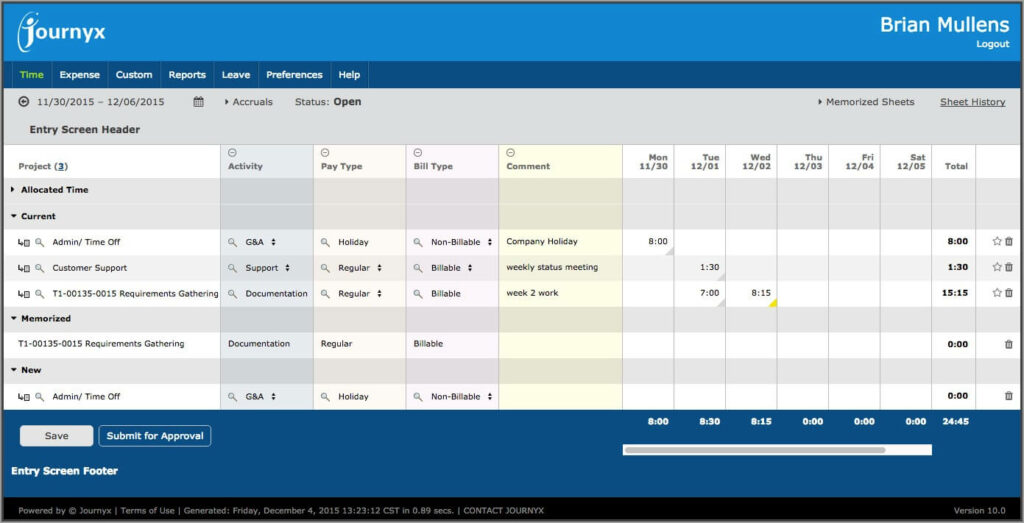 Automatically validate timesheets and approve them your way.
Stop making timesheet corrections with automatic data validation on employee timesheets.
Create your own validation rules and workflow processes for easy time, expense and time-off approvals that work for your company's needs.
Manage leave requests and PTO accruals.
Easily track all types of employee time in Journyx – including leave time! Now you have the tools to manage leave requests and calculate accruals, all in one place.
Track time on the go, on any device.
With the Journyx mobile app, your employees have power and flexibility to fill out their timesheets from anywhere, using any iOS or Android device. Everything syncs seamlessly back to Dynamics SL!
Get the timesheet reports you need.
Using Journyx, you have the data needed to create robust reports on employee timesheet data – giving you a complete view into all your productivity, resources, and projects.
Additional Dynamics Resources
How to Rock Your Project Time and Expenses with Microsoft Dynamics
Ready to ROCK project time and expense tracking? This checklist will show you what to look for in a solution that works with Microsoft Dynamics, so you can narrow down the solutions more easily.
Smart Time and Expense Tracking that Rocks Your Microsoft World
During this recorded webinar, you'll learn how time and expense data is synced to your key Microsoft applications, including Dynamics SL, Excel, Project and Exchange to make timesheets easier than ever to fill out, submit, and process.
Time Entry in Microsoft Dynamics: Bridging the Gap
How can a best-of-breed time and expense tracking solution fill in the gaps that Microsoft Dynamics has in its time entry capabilities? This infographic shows a feature-by-feature comparison of Journyx and Dynamics ERP systems to show how it bridges the time entry divide.
Have a specific need?
Talk to one of our experts today about how your employees track time, and how Journyx for Dynamics SL can work for your company.